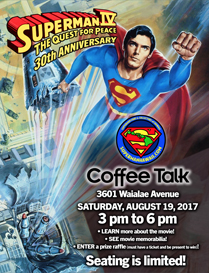 Members of Superman Fans and Collectors of Hawaii gathered together to celebrate the 30th anniversary of the motion picture Superman IV: The Quest For Peace.  The event was held on Saturday, August 19th, 2017 at 3 pm at Coffee Talk in Kaimuki.
On display were collectibles related to the movie including a novelization, an entire set of 7-Eleven Slurpee cups, and a video store standee.
After a discussion about what went into the making of the film, members watched the movie.  At the end, the winning number of the raffle was selected.  Jason Tayros won a copy of the 1987 DC Comics adaptation of the film and a Superman keychain.  A second number was pulled to giveaway a prize that was donated by fellow member Tony Young.  Superman Fans and Collectors of Hawaii member Kerry Yoshida won a copy of the 1991 comicbook Superman: The Man of Steel.
Thank you to all who attended the event.  A huge thank you goes out to Coffee Talk owner Liz Schwartz and all the employees for making this event possible!

SUPERMAN IV: THE QUEST FOR PEACE
30th ANNIVERSARY EVENT PHOTOS