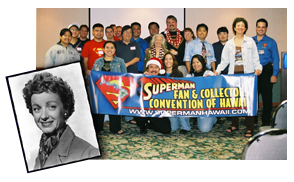 Held on Saturday, December 10th, 2005, this was a year of firsts for the Superman Fan & Collectors Convention of Hawaii! It was the first time that the event was held in a new facility, and it was the very first time that we had special guests!
The first guest introduced was John Field, a respected film and television historian. John has contributed special film presentations at the internationally known San Diego Comic-Con for over 17 years, and will be featured in an on-screen interview in the up-coming The Adventures of Superman seasons 3 & 4 DVD box-sets for Warner Brothers.
The guest of honor was none other than film and television star Noel Neill. In addition to her numerous film appearances, Noel is best known for her role as Lois Lane in the 1948 and 1950 movie serials and the 1950's The Adventures of Superman television series.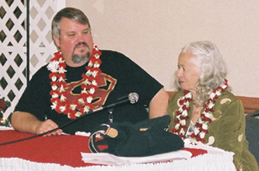 Her involvement in Superman mythology continued with her appearance in Superman: The Movie as Lois' mom, and her role in the upcoming Superman Returns film.
As guests arrived, the first 30 people were given a free Superman comic and a free Smallville trading card courtesy of Inkworks. After the introduction of the special guests, the audience was treated to a question and answer session with Noel and John.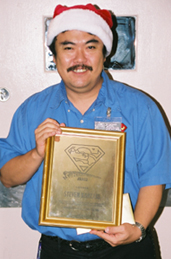 Another item in our "year of firsts" was the introduction of the SupermanHawaii.com Award which is to be given to an individual who contributes their labor, ideas and devotion to making these events possible.
This year's recipient was Associate Coordinator Steven Kanzaki who has been a strong supporter and confidant since the events were first dreamed up in 1998. A surprised Steven accepted his award with smiles. A recognition that's well deserved.
After a quick group photo, fans lined up for a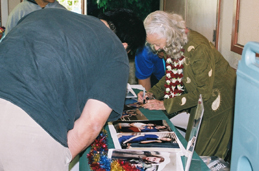 n autograph session with Noel Neill. John Field's Film Festival featured a presentation of episodes of The Adventures of Superman on rare 16mm film prints. The festival also featured a rare cereal promotional film starring George Reeves, and a SuperToons compilation featuring Superman parody cartoons.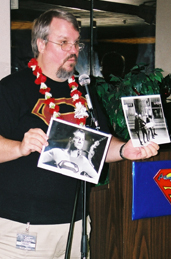 At two separate moments during the event, prizes were awarded to those with the lucky tickets. As an added bonus, John Field gave away photos of George Reeves as Superman if they answered questions about the series correctly.
A fun time was had by all! We'd like to thank Noel Neill for gracing us with her presence this year. We'd also like to thank John Field for his spirit, knowledge and humor throughout the entire event.
Additional thanks go to Sharleen Billedo at the Best Western Plaza Hotel for being so accommodating, Becky Maltby of Honolulu Weekly, Kelsey Amos of Mililani High School's Trojan Times, and Diane Ako of KHNL/KFVE.
•CLICK HERE to see special video coverage of the 2005 event!
•CLICK HERE to see the K5 News at Nine mention of the 2005 event!

SUPERMANHAWAII.COM EVENT 2005 PHOTOS