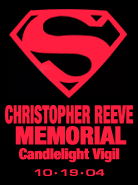 Hawaii fans pay tribute to a friend.
A cape flew high… and proud… as Hawaii Superman fans gathered in Waikiki on Tuesday, October 19th, 2004 to honor the memory of Christopher Reeve.
The vigil area was held on the median between Kalakaua Avenue and Monsarrat Avenue directly across the street to the Honolulu Zoo starting at 6:30 p.m. A display was set up behind the candle area and visitors got a chance to write their thoughts and condolences. There were 52 candles in all… one for every year of Christopher Reeve's life and to represent 1952, the year of his birth.
We will miss you, Mr. Reeve.
As always, please honor the memory of Christopher Reeve by donating generously to the Christopher Reeve Paralysis Foundation (CRPF).