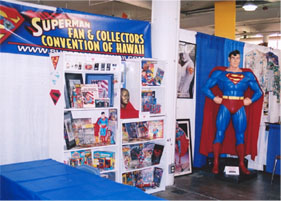 Superman Statue and Collectibles on Display!
SupermanHawaii.com was offered the chance to have a Superman booth at the 2005 Hawaii Collectors' Expo at the Neal Blaisdell Exhibition Hall on the weekend of February 25, 26, and 27. On display were numerous comicbooks, action figures, records, games toys, lunch boxes, and other Superman collectibles. Among the most notable were autographs of Kirk Alyn and Christopher Reeve, a copy of the George Reeves life cast, and the incredible 6′ 9″ Superman Statue which was on loan from the wonderful people at Sharper Image in Ala Moana Center.
Many fans stopped by to take a look at everything and find out about the Hawaii conventions and to also learn more about the Superman Celebration in Metropolis Illinois. Also featured were the SuperQuiz Games where contestants had their chance to test their knowledge about Superman and Superman mythology.
Several extra special thank you's go out to the following people: To Mr. K, owner and promoter of the Hawaii Collectors' Expo, for his generosity in providing SupermanHawaii.com with this years booth. To Mary Gregory at Sharper Image in Ala Moana Center for making the Superman Statue's appearance possible. To Napua Ahina for her extensive help in organizing the booth. To Sale Maika, Jr. for not only his help in providing SupermanHawaii.com with its first great looking banner, but for also helping to transport the Superman Statue. To Jackson Chun, Scott Shinsato, Myron Siu for their undying
devotion to helping set-up, transporting collectibles, maintaining the booth on all three days, and breaking-down! Other thank you's go out to Steven Kanzaki, Bert Shibuya, and Ben Leong.
The Hawaii Collectors' Expo 2005 was produced by the Hawaii State Numismatic Association.


HAWAII COLLECTORS' EXPO 2005 PHOTOS