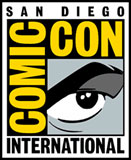 The 2005 San Diego ComicCon was a blast! Hundreds of thousands of people showed up and some were even fully dressed in costumes of all shapes and sizes in true ComicCon fashion.
DC Comics had a major presence. Within the huge DC Comics booth there was a DC Direct section which featured soon-to-be released figures along with some great looking prototypes.  On another side of their booth… promotion galore for not only the upcoming comic issues or upcoming Justice League Unlimited episodes, but for the Superman Returns movie which will be released in the summer of 2006. There were also several signing areas set up so that fans could get their fill of artist's autographs.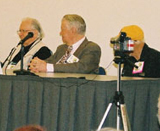 Among the many panel discussions was the "History of DC Comics" where fans learned about the early years of DC from famous artists like Arnold Drake, Jerry Robinson, Nick Cardy, Murphy Anderson, and Gene Colan.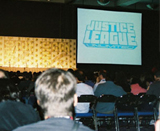 The Justice League Unlimited panel was a JL fan's dream! The house was packed as Bruce Timm (creator of Batman: The Animated Series, Superman: The Animated Series, Batman Beyond, and Justice League) and staff gave an inside scoop about what makes Justice League tick. As an added bonus, fans were treated to a soon-to-be aired episode and the first fifteen minutes of next season's premiere episode! The presentation was met with uproarious cheers!
On Saturday morning, lines formed very early for the Superman Returns presentation in H Hall. The large room quickly filled to capacity as Bryan Singer arrived to a barrage of cheers. Mr. Singer answered some questions from the audience and announced that he'd be showing a small clip and asked to not expect much. This was not the case. The presentation was a long, fully edited trailer that gave everyone a feel for what the movie would be like. At the end,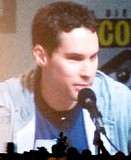 everyone cheered loudly and gave Bryan a nearly complete standing ovation. He then asked if everyone would like to see it again which met with even more cheers. The card that everyone was handed when they entered could be redeemed at the DC Direct booth for an exclusive Superman Returns promotional pin.
At the Will Eisner Awards, friends and fans remembered a legend. This was an especially sad occasion because it was the first Eisner Awards to be held without Will.
As part of the awards ceremony, legendary artist and awards chairperson Jerry Robinson presented the all new Bill Finger Awards. These brand new awards will be presented annually to both a living and a deceased comic book writer. This year's recipients were legendary artist Arnold Drake and Superman co-creator Jerry Siegel. Joanne Siegel accepted the award on behalf of her late husband Jerry Siegel.

2005 SAN DIEGO COMIC-CON PHOTOS WILL BE BACK SOON.