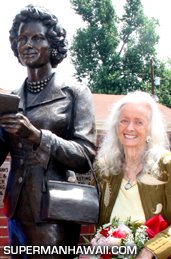 THE LEGENDARY NOEL NEILL GETS HER STATUE… AT LAST!
Screen legend, and quintessential "Lois Lane", Noel Neill was honored at the 2010 Superman Celebration in Metropolis Illinois. On June 11th at 10 a.m., the long awaited statue of Noel was unveiled to hundreds of adoring fans. Noel herself was on-hand to assist with the grand reveal.
Before the statue's construction, the Metropolis Chamber of Commerce sold bricks and plaques to fans which could be personalized with their name or business. The revenue from all bricks and commemorative plaques helped pay for the sculpting and the placement of the statue and were placed around it. The six foot bronze statue now stands at the corner of Eighth and Market streets. A lasting tribute to the greatest Lois Lane and one of the nicest people in the world.
Thanks to the help of Jason Tayros and Kerry Yoshida, SupermanHawaii.com has contributed to this well-deserved statue.
Congratulations Noel! We at SupermanHawaii.com are proud to have had you here in 2005 and wish you the best!

NOEL NEILL STATUE UNVEILING PHOTOS