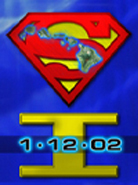 THE FIRST SUPERMANHAWAII.COM EVENT KICKS OFF!
After much planning and promotion the inaugural Superman Fan & Collectors Convention of Hawaii finally soared!
At 9 a.m. an energetic group of fans gathered at Leeward Community College in Pearl City, Hawaii in room LA 107. Those who pre-registered received personalized name badges and everyone who came was given a ticket for a secret Superman related prize drawing at the end of the event. Guests looked at photos of the previous Metropolis celebrations over the years and watched clips from various Superman shows. After a brief introduction by Event Coordinator Lawrence Pacheco, guests took a break for some refreshments.
After settling back into their seats they were treated to four different trailers of Superman: The Movie, thanks to the help of Technical Coordinator Jason Fujimoto, before the presentation of the movie itself. This was an extended version of the film but was not the version seen on the DVD. This one was assembled from various sources and contained some scenes that were not on the DVD release.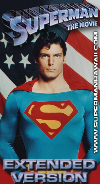 Taking a break half way through, guests gathered once again to chat and take a group photo to capture the event. Then, after helping themselves to more goodies, thanks to the help of Associate Coordinator Steven Kanzaki, they returned to their seats to watch the second half of Superman: The Movie.
The drawing was then held for the inaugural event prize just before 2 p.m. and the lucky winne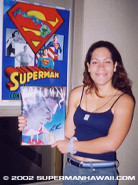 r was an enthusiastic Vicky DeSantos! She won herself a Superman: Peace on Earth graphic novel autographed by artist Alex Ross! Vicky was a Christopher Reeve fan as a child and said that now, after attending the convention, she's rekindled her interest and will be catching up with everything related to Christopher Reeve.