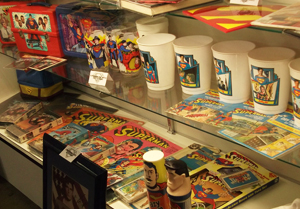 SUPERMAN & BATMAN COLLECTIBLES ON DISPLAY!
The 2014 Hawaii All-Collectors Show was held on Sunday, July 13th 2014 at the Neal S. Blaisdell Exhibition Hall from 10:30 am to 6 pm. At the event, a special display called World's Finest: A Superman/Batman Exhibit was featured that contained Superman and Batman memorabilia from the two private collections of Lawrence Pacheco and Scott Shinsato.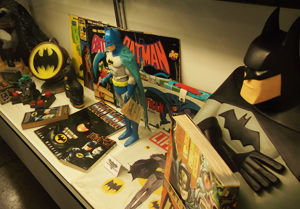 Among the many items on display were a George Reeves life cast, a Christopher Reeve life cast (from the collection of Garrett Nakahodo), Batman movie serial 8mm film reels, a 1941 Superman Speed Game, a 1973 Batman Playset , a 1940s Superman carnival chalk figure, a 1966 Life magazine featuring Adam West, autographs, toys, movie memorabilia, and much, much more.
People flooded the exhibition hall in droves, many of whom were asking how to find the World's Finest booth.  Some claiming that they heard about it from Scott Shinsato's appearance on Hawaii News Now's Sunrise show on Friday, July 11th (You can see his appearance by clicking on the link below).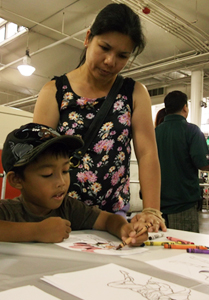 Throughout the day, visitors were encouraged to enter a free drawing for their chance to win a Superman/Batman Mystery Prize Pack and that the winning ticket would be drawn at 5 pm that day.  Children were encouraged to explore their artistic skills with Superman and Batman coloring pages.
The exhibit drew a crowd of Superman and Batman fans young and old, some of whom came back numerous times throughout the day.  "I used to have that", said one man referring to a Superman: The Movie lunchbox.  One ecstatic visitor said, "This is a great collection!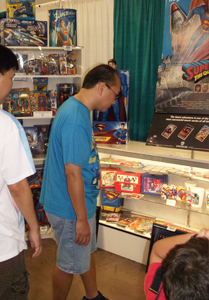 I wanna go see if I still have my stuff!"
As the collectors show neared its close, it was announced that the ticket for the Superman/Batman Mystery Prize Pack would be drawn soon.  More people rushed to the booth to get in their last minute entries.  At 5 pm the entry submissions were closed.  As the hopeful winners gathered around outside the World's Finest exhibit, the winning ticket was drawn and the lucky number belonged to Batman fan Jordan Joanou of Honolulu!  At that point, the contents of the "Mystery Prize Pack" were revealed… and the announcement was met with "oohs" and "ahhhs!"
Jordan was the proud recipient of:  1 Superman Airfoil Kite, 1 Hero Heritage Superman trading card, 2 Batman FirePower trading cards, 1 Batman MegaMini Kit Bat Signal, 2 John Byrne "The Man of Steel" variant cover comicbooks, 1 DC Comics Filmation Super Heroes DVD, 1 Batman & Friends DVD, 1 Hot Wheels Batman Motorcycle, 1 Man of Steel "Tread Attack" action figure, 2 trading cards from the TV series Lois & Clark: The New Adventures of Superman, 3 vintage Superman: The Movie trading cards, and last, but not least, 2 tickets to the Hana Hou Picture Show's presentation of the 1989 film… Batman on July 23rd!
The World's Finest Exhibit was a huge success.  Thanks to everyone who stopped by, thanks to all who tirelessly helped in transportation and set-up of the exhibit, and thank you Ileen and Wayne of the Hawaii All-Collectors Show for allowing us to set-up our exhibit at your great annual event!

WATCH Scott Shinsato's appearance on Hawaii News Now's Sunrise show!
CLICK HERE to read the nerdcotics.com coverage of the 2014 World's Finest Exhibit
CLICK HERE to see the video synopsis of the 2014 World's Finest Exhibit
CLICK HERE to read the 2014 All-Collectors Show announcement
CLICK HERE to read the Facebook announcement
CLICK HERE to read the Hawaii News Now Sunrise teaser
CLICK HERE to read the preview from The Honolulu Pulse

WORLD'S FINEST EXHIBIT PHOTOS