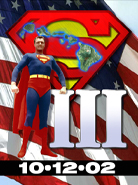 A GEORGE REEVES DAY AT THE 3RD SUPERMANHAWAII.COM EVENT!
The Third Superman Fan & Collectors Convention was an event designed for fans of the 1950s television series The Adventures of Superman starring George Reeves. The event was held in room LA 110 once again at Leeward Community College in Pearl City, Hawaii.
GEORGE REEVES LIFECAST ON DISPLAY!
In addition to a classic photo of George Reeves as Superman, the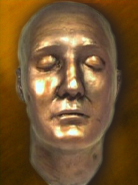 updated photo album which included the recent June 2002 Superman Celebration in Metropolis, Illinois, and the Superman hilight reel, the display table featured a copy of a lifecast taken of actor George Reeves for the episode 'The Face and the Voice.' This is just one of the most sought after collectibles for Reeves and Superman fans.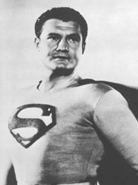 GEORGE REEVES EPISODE MARATHON!
The feature presentation of the event was hand picked episodes from the famous television series 'The Adventures of Superman' which ran for an incredible 104 episodes from 1952 to 1956. Featured episodes included the first episode 'Superman on Earth', 'Superman in Exile' which has long been a fan favorite, and 'The Deadly Rock' which co-starred Robert Lowery who played Batman in the 1940s serial 'Batman and Robin'.
'SUPERMAN: SHADOW OF APOKOLIPS' GAME DEMO!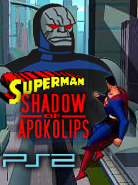 As an added bonus, SupermanHawaii.com Technical Coordinator Jason Fujimoto demonstrated the brand new Playstation 2 game 'Superman: Shadow of Apokolips.' Attendees got their chance to play the game and learn some strategies from Jason. During the game you get to do battle with the likes of Metallo, Parasite, Livewire, and others. "The flying is great!", said Jason, "The banking (with his arm back while he makes a turn much like Christopher Reeve did) is what makes it seem realistic."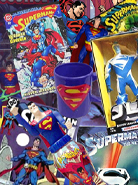 CONGRATULATIONS TO OUR PRIZE WINNERS!
Prizes were given out at the end of the event. The lucky winners were:
CHAD AGCAOILI who won an official Metropolis, Illinois Superman Celebration T-Shirt!
VICKY DESANTOS who won a Superman Blue 10″ action figure!
NICK REICHARD who won an Adventures of Superman soundtrack CD!