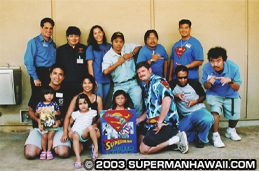 THE FOURTH SUPERMANHAWAII.COM EVENT: A TIME TO REMEMBER!
Leeward Community College in Pearl City, Hawaii was once again the the location for the fourth Superman Fan & Collectors Convention of Hawaii. Beginning at 10:30 a.m. guests arrived and the first ten people through the door received their very own collectible Superman comic! As always, those who pre-registered received personalized event name badges. On hand were photos from the recent Superman Celebration in Metropolis Illinois for all to see. After some Superman news on everything from the Justice League series to the Smallville series, fans got a chance to get to know each other and talk about their interests and collections. As an added surprise, the lucky folks who sat in the correct seats had a prize waiting for them. Underneath five randomly chosen seats was either a pack of Smallville trading cards or two promo cards from Smallville and Justice League courtesy of the generous people at Inkworks and Jeff Germann at SupermanCollectors.com. After a short break the first half of Superman III was shown as more guests arrived.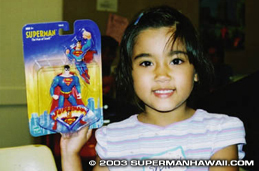 During the second break, fans gathered outside for a group photo and then returned for the first part of the prize giveaways! Myron Siu won the first prize of the day… a Superman Belly Washer. Then an unopened pack of Superman II trading cards went to Mike Doan. The third prize was awarded to a happy four year old Sydney Millerd (pictured) who won a Superman: The Animated Series action figure! (see below for more event photos.)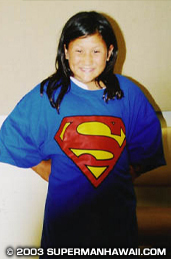 Part two of Superman III was then played and at its end fans were treated to even more prizes! Edward Millerd snagged an original Superman: The Movie trading card featuring a great image of Christopher Reeve. Amazingly, his wife, Virgie Millerd, was the next winner in the drawing who got herself a Superman 'S' symbol T-shirt. Carmen Andrews (pictured) won herself an extra large Superman shirt. A few of us were concerned that the prize didn't work for such a young girl but she slipped it on and suddenly it became the perfect night shirt! We were all relieved. As just two more prizes remained they promised to be bigger and better! Sale Maika, Jr. became the very proud owner of a DC Direct Bizarro mini-bust. The final prize of the day was the long awaited Prize Pack.  Scott Shinsato, who was on the edge of his seat in hopes of winning something that day, became the owner of this final and most anticipated bounty!  The Prize Pack was loaded with over a dozen goodies from the 2003 Superman Celebration in Metropolis Illinois including an issue of Metropolis Planet newspaper, a Superman Celebration coffee mug, a Superman Celebration baseball cap and a 25th Annual Superman Celebration T-shirt! Congratulations to all our winners! (see below for more event photos.)
•CLICK HERE to see a special video slideshow of the 2003 event!

SFCCH 2003 PHOTOS